This Christmas I was blessed with receiving a CabKing cabbing machine, which now enables me to create cabochons from stones for use in my jewelry much quicker, easier and soooo much cleaner than creating them using diamond bits and wheels on then end of a flex shaft.
As I was able to take off work the week following Christmas, I kept busy cutting, grinding and polishing stones on the machine and it's an absolute dream! Pictured are some of the cabochons I created last week. A few are large (40×30 mm and 30×22 mm), but most are smaller, and there's a good mix of high-dome, low-dome and regular dome cabochons in oval, pear, tear-drop, round, rectangular and free-form shapes…
Black Marble – Before the company I work for relocated their offices to a new building, apparently one of the "executive" desks with a black marble desktop didn't make it out the door without hazard. Pieces of the shattered marble desktop were piled in a stack in the storage area, which also happened to be right next to our datacenter where many of my servers were housed. Before the pile of broken pieces was hauled off to the trash, I grabbed a few of the smaller chunks as I thought the black marble with white quartz veins could make some nice cabochons, and if nothing else give me some material to practice with when using my flex shaft for shaping and carving rock.
I still have plenty of that material left, so figured it would also be perfect for me to practice with on the cabbing machine, especially since I hadn't cabbed on a machine in eons. Indeed it is perfect practice material, and takes a great polish, too! It's not as hard as agate, though scratches from diamond bits used on a flex shaft always took a while to get out no matter what material I was working with, but on the cabbing machine's graded diamond wheels it took no time at all!
By the way, the "gold swirls" running through the black marble pieces in the top row is a type of epoxy. I had noticed when slabbing chunks of this desktop material that the stone easily fractured, and when cutting or grinding though those areas would get that "epoxy smell". My guess is that the large slabs were vacuum impregnated with an epoxy binder for stabilization, and the gold sheen epoxy added to the "executive look" of the desktop when cut through or exposed as part of the finish.
Carnelian Agate – Back in '79 when I lived in Apache Junction, AZ I did occasional odd jobs for a widow there, helping her to maintain her house and property, feed her ducks and geese, and other assorted chores. What made that work "extra fun" was that her husband had left behind an adjoining rock yard and storage shed as long as the yard itself. He used to sell all sorts of rocks, minerals, geodes and such behind their house, and had piles, crates and drawers full of the stuff.
I traded my work for rocks since she no longer kept the rock business going. A couple pieces of orange carnelian agate were among those that I traded work for, and a slab taken from one of the smaller pieces produced those cabs shown above. Kathy has already claimed the largest one, as she said it reminds her of cattails near a stream when viewed vertically. The bottom two are free-form, though the one on the right looks just like a jelly bean. I'll have to do something fun with that one!
Chinese Writing Stone – While growing up my parents used to keep several large "garden rocks" of 10-15 lbs. on our property as part of the landscaping. Some of the rocks were given to them, some were found, and I have no idea where they got the rocks these cabs came from. But, when they moved into a new house, they took the grey basalt rocks with white flecks of feldspar with them, laying them out among the trees around the new house. They passed away years ago, but before that house was sold, Kathy and I gathered up those rocks just because we thought they were so interesting, too!
It wasn't until I saw a post on Instagram one day of some jewelry made with what looked like that very same rock we now had in our yard, and they called it "Chinese Writing Stone". Looking through online sites that sold slabs of the rock confirmed it. I've seen some of the material for sell mostly with grey basalt, though sometimes the basalt can be a greenish or dark grey, but it's definitely Chinese Writing Stone, the name given to the rock back in 1980 due to the pattern of the white phenocryst crystals within the basalt.
Apparently these rocks may have came from California around the Sierra Nevada foothills in the Auburn area, as that is where this type of Porphory rock with the white andalusite crystals (feldspar) was found when a highway was constructed there, but I certainly don't know for sure. All I recall is seeing those rocks placed about the yards growing up from as far back as I can remember. Perhaps my parents liked to haul interesting rocks across the country when they moved, too?
I took a couple small slabs off the end of one of those "garden rocks" that I could get cut off with my tile saw, and am pleased at how nicely the cabs polished up. Now I have my eye on a few other "garden rocks" we have out in the yard! 😉
Unakite – Several years ago when Kathy, her mom and I were taking a walk along the Trinity River here in Texas, Kathy found a small but pretty piece of pink and green Unakite and brought it home for our rock collection. She gave me the OK to split it down the middle and from the two halves made the cabochons pictured above. It takes a very nice polish, and the mix of the pink orthoclase (feldspar) and green epidote with streaks of transparent quartz makes for some very pretty cabs that Kathy and I can use in our crafts.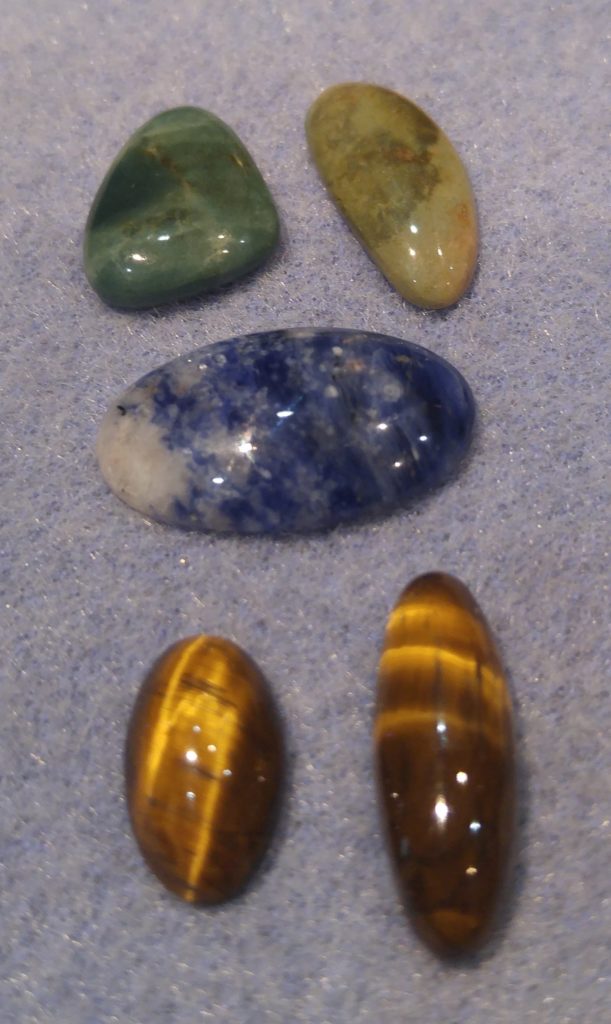 Green Jasper, Sodalite & Tiger Eye – The green jasper is from another "garden rock" we've had laying out in the yard, only this one originally came from Kathy's mom's yard. Her brother had most likely picked it up from somebody he knew in the past, and it was quite weathered and cracked but has some pretty greens and yellows mixed throughout. When I went to see if I could split off a small chunk to slice up, the rock actually broke into three softball-size pieces, including a couple small bits that fractured off. I haven't cut any slabs from those larger pieces yet, but took the two small pieces and created a couple low-dome cabs from them.
I had a small thin piece of blue and white Sodalite that I had been toting around for ages (I can't remember where it came from though), so I threw that on a stick and got a nice low-dome cab out of that stone, too, and is the perfect size for a ring or small pendant.
I also had a couple small slim pieces of Tiger Eye in the box along with the Sodalite. They were actually trimmings off of cabs that I had done back in the 70's. Too big to throw away but too small for our rock and mineral collection, so when I went looking for more material to cut, I pulled those pieces out and got them cabbed up after all these years.
Turritella Agate – Turritella is an agate comprised of fossilized fresh water snails found in Wyoming. The math teacher that taught me how to cab rocks in a lapidary class, also back in the 70's, gave me several rocks and slabs after the mini-session was over (read more on that under the Lapidary section of the About Silver Dimensions page ). A couple of those fist-size rocks gifted to me were Turritella agate. Being agatized fossils, it's a hard material, but can still be tricky to work with as small fossilized pieces on the edge (girdle) of the cabochon can sometimes break off easily, necessitating a smaller cab than you had originally planned for.
Also, the "lay" of the snails that settled on the lake floor that later became the fossilized Turritella agate requires some thought in what direction you slice the chunk of stone. Cutting horizontally with the lay usually exposes more "side views" of the snail shells (much more interesting to see), whereas cutting slabs vertically will give you more "circles" from the snail shell cross sections.
Those chunks of Turritella were some of the rocks that have been hauled around with me since then, and although I had cut a few very small cabs from them using the flex shaft and diamond bits for rings I had made, I found the material holds together much better when using the 6″ diamond cabbing wheels on the machine.
Also, as the material is agatized fossil, slight undercutting of the white shells occurred in some areas no matter how hard I tried to prevent it, so they didn't take quite the "mirror polish" that regular agate material is generally known for across the entire surface. I think I might try using aluminum oxide instead of cerium oxide for the final polish next time to see if that helps alleviate that. If it does, I'll take these cabs back through the 600, 1,200 and 3,000 grit wheels before the final polish for no change in size, only finish.
Granite Countertop – Yep, there it is… some of the very orthoclase granite that was used for our kitchen countertops. When we bought our house in 2007, it had been remodeled with new granite countertops in the kitchen. Sitting in the empty garage were two large pieces of the countertop material that were cut out for the sinks. In the past I had taken those sink-sized slabs and squared them up using my tile saw to make cutting boards and trivets, and kept the excess material cut off the ends because, well, it's pretty rock! 😉